In order to travel around the country and longboard, we must have somewhere to stay. So my wife and I created our home on the road, which would provide us with somewhere to sleep, somewhere to store our stuff, and a way to bing plenty of longboards. I measured and doodled, decided on a design and then bought a bunch of wood. (about $200 worth: 2"x12" boards, 2 sheets of ply wood, and hardware)

We've camped in the truck bed before, but the uneven surface of the floor is uncomfortable. The wheel wells are also quite annoying to deal with at night. So we decided to create a flat sleeping surface above the wheel wells. This gave us more room to roll around and a more even place to lie down. It has proved to be a great way to store longboards while traveling.
We created this flat area by standing up long 2" x 12" planks. We used three boards in the bed and spaced them out to evenly disperse our weight. We reinforced the outside walls by adding 3 horizontal boards to secure the frame to the outside of the truck bed.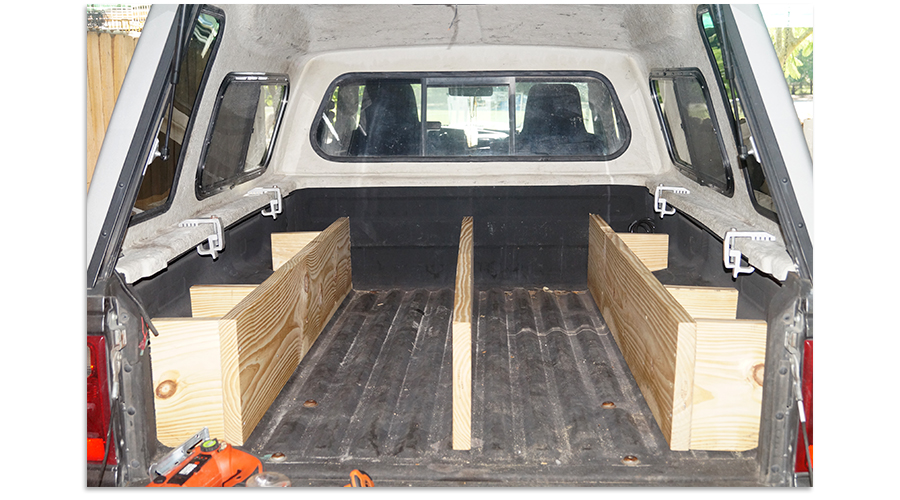 These separations also created storage compartments to efficiently use the space in the truck. These compartments are a great size for tools, helmets, slide gloves, and any extra hardware you would need on longboarding trip.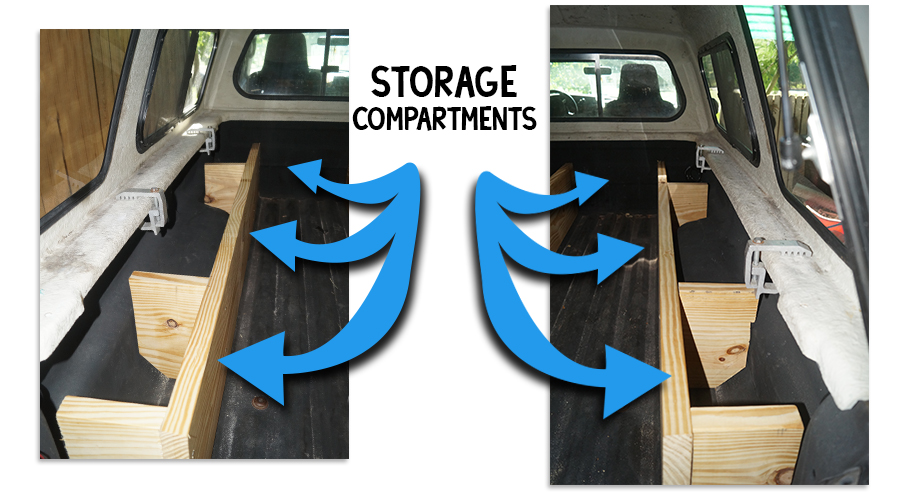 We securely attached plywood to the vertical planks creating our level surface. We also measured and cut the lids to the storage compartments to fit flush with the bed surface.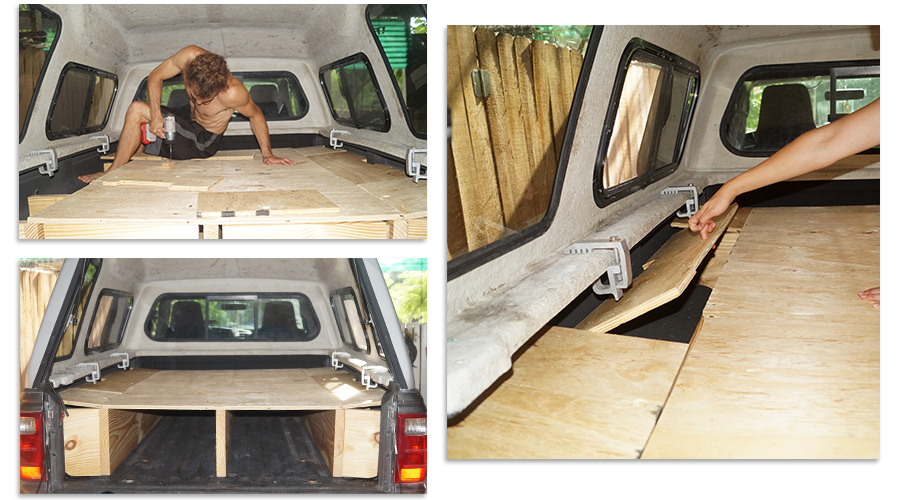 Now with the frame secure, we needed to utilize our large storage space. We created drawers to most effectively use the space beneath the bed. This was the most difficult part of the build for me. I have never built drawers before, so it took a lot of measuring and creative engineering for me to complete a drawer.. and then I had to do it again (because there are two drawers).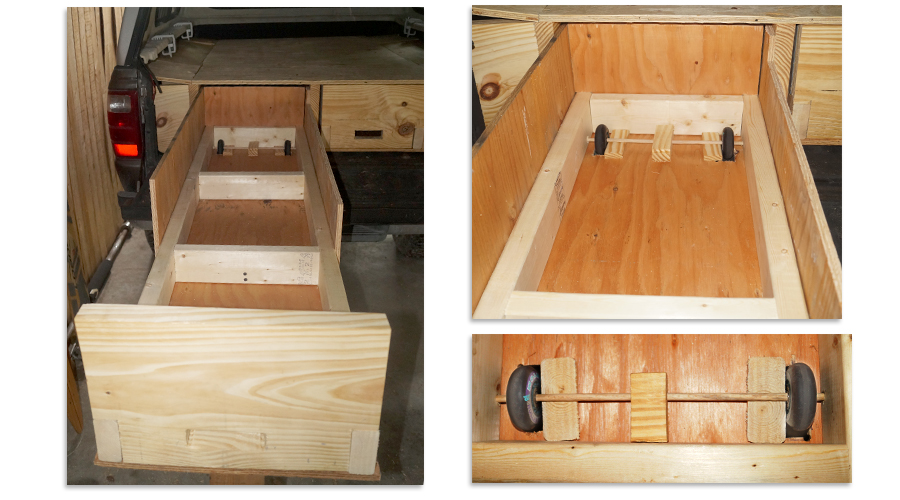 I didn't want to spend the extra money on rollers or bearings, but I wanted the drawers to slide easily. I created a reinforced wooden axle and used soft rubber roller blade wheels to allow the drawer to slide easily on the truck bed. I don't have a ton of pictures of the process, but here's the finished product. The drawers are a great size, 68" long which is plenty long enough for extra boards!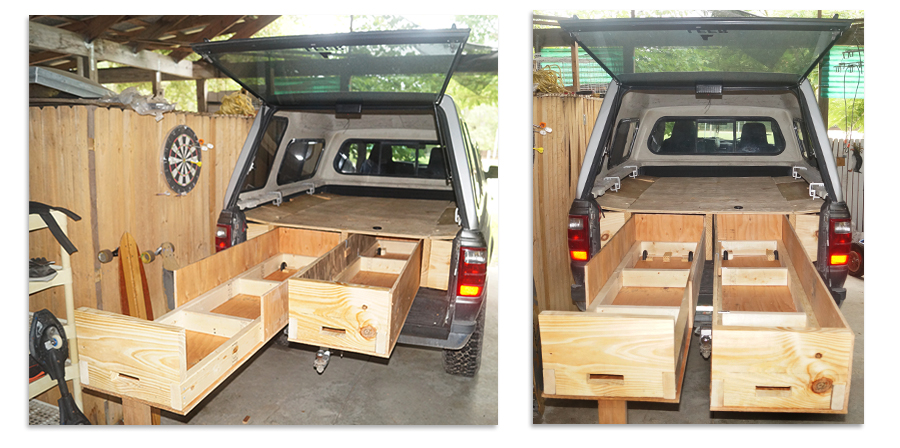 Once the wood work was done, we carpeted the top to make it more comfortable. We use our sleeping pads with plenty of pillows and blankets to make it cozy.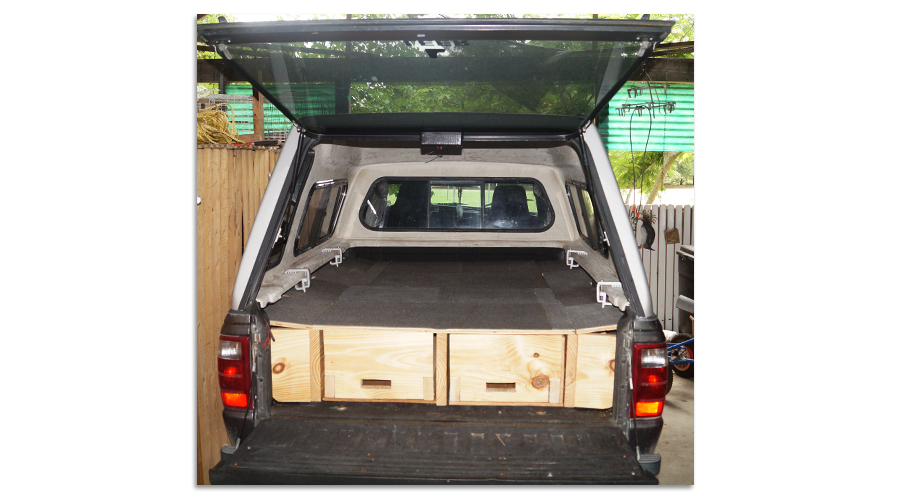 This set up is also ideal for longboard events, holding a ton of boards and gear.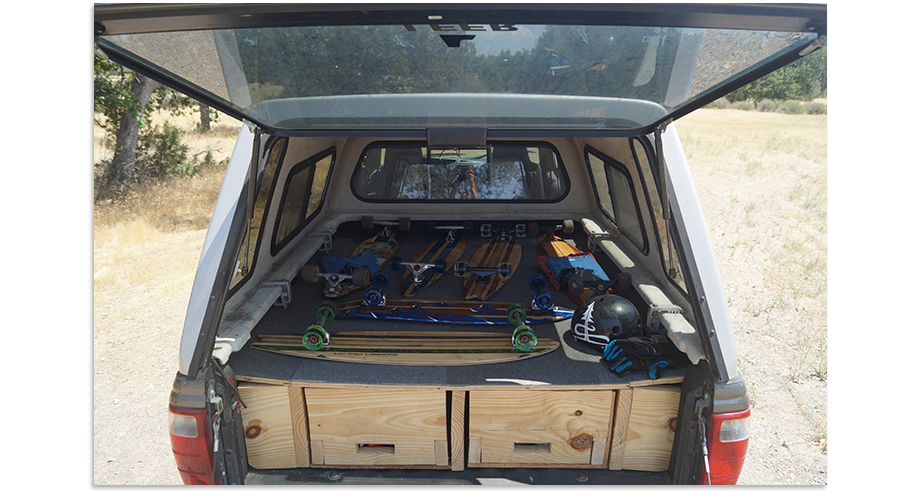 The truck bed conversion also makes for a good display for potential road side sales!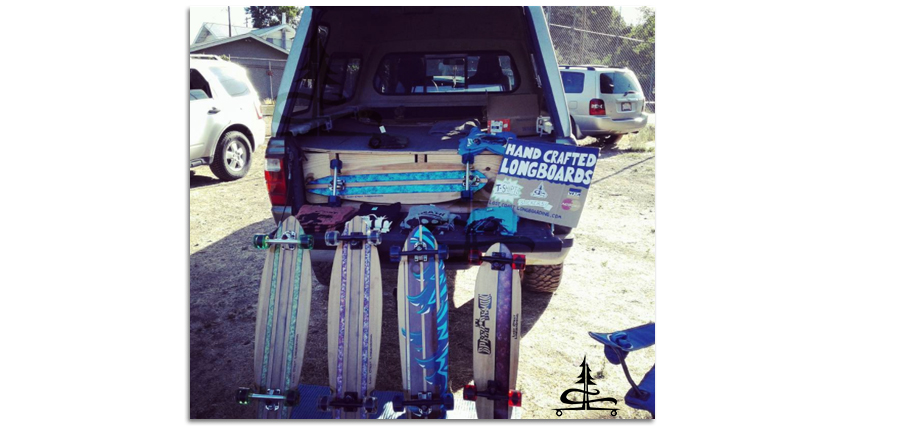 Let me know what you think of the build, or if you have any upgrade ideas! If you have any questions about the build or materials feel free to ask in the comments below! You don't have to see me on the side of the road to buy a board! Feel free to help support Lost Coast Longboarding online by picking up some gear at the shop!