A little pressed for time but craving an adventure, we planned an action packed one nighter. From Yreka, we drove about an hour and a half where we entered the Russian Wilderness.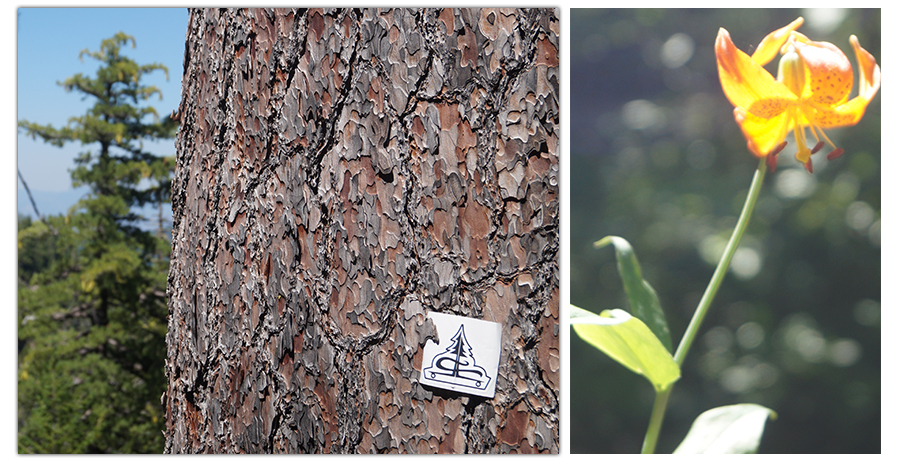 We started from the Paynes Lake Trailhead. It's about 2.5 miles of consistently steep elevation gain through the beautiful conifers.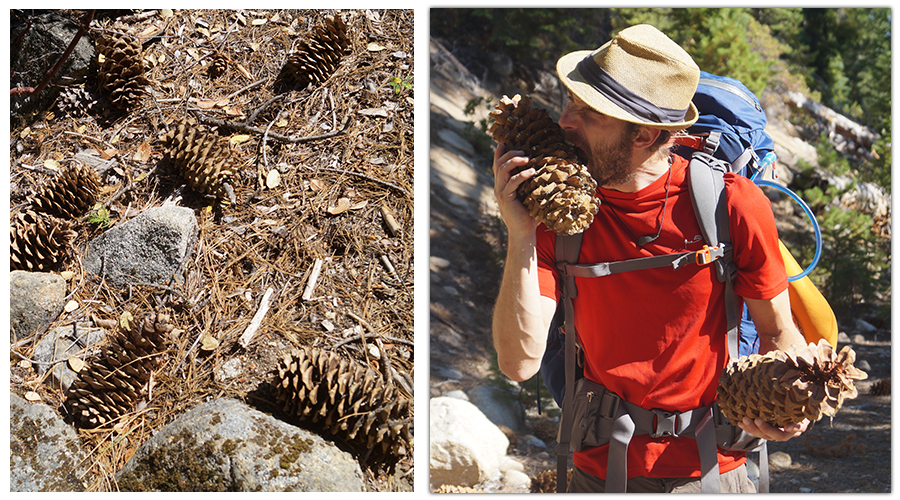 We love seeing the diversity of conifers in this area, Sugar Pine being one of our favorite. We used the huge cones for a couple rounds of pinecone; a trail version of bocce ball. The trail was a combination of dirt and rock that was easy to follow through the woods. We made it to Paynes Lake, not far from the PCT intersection. The lake was relatively large and in a granite cirque.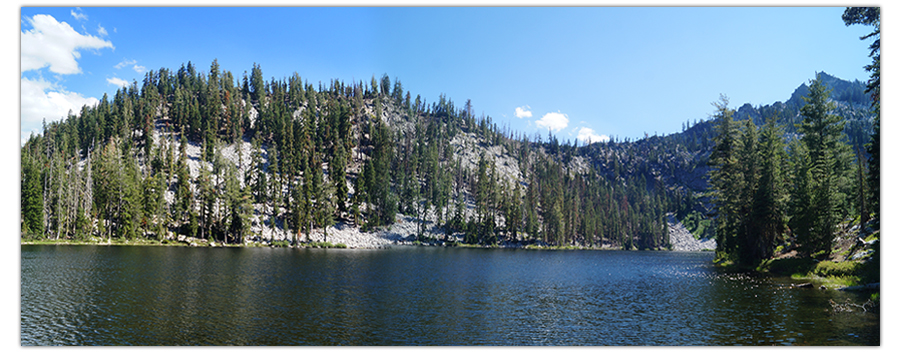 We read that the trail to Albert Lake was on the north side of the lake. We did not see a 'trail' but we ran into a guy with his mules that pointed us in the right direction. There was not a very detectable trail but we meandered our way up and found a faint grassy mountainside trail that then turned rocky.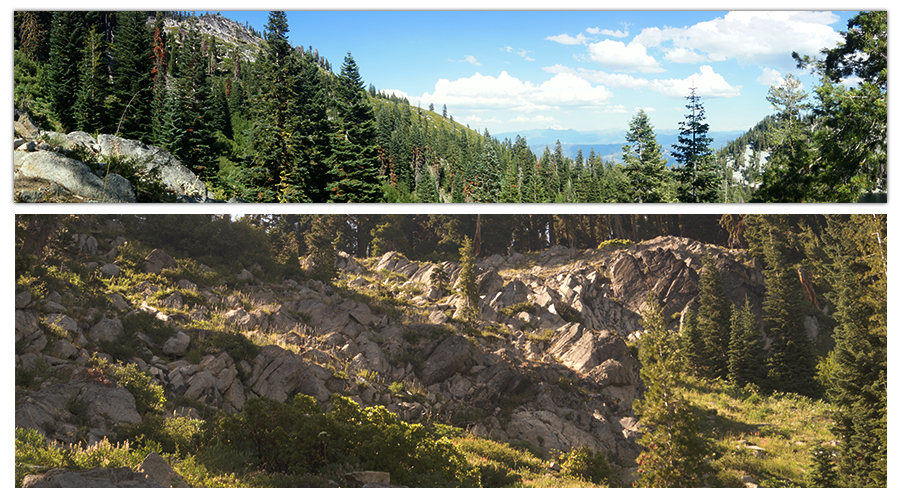 Once we got to Albert Lake we stopped for lunch and some pictures. To get to the trail on the other shore of Albert Lake we had to walk across some downed logs that were placed perfectly to help us across the lakeside.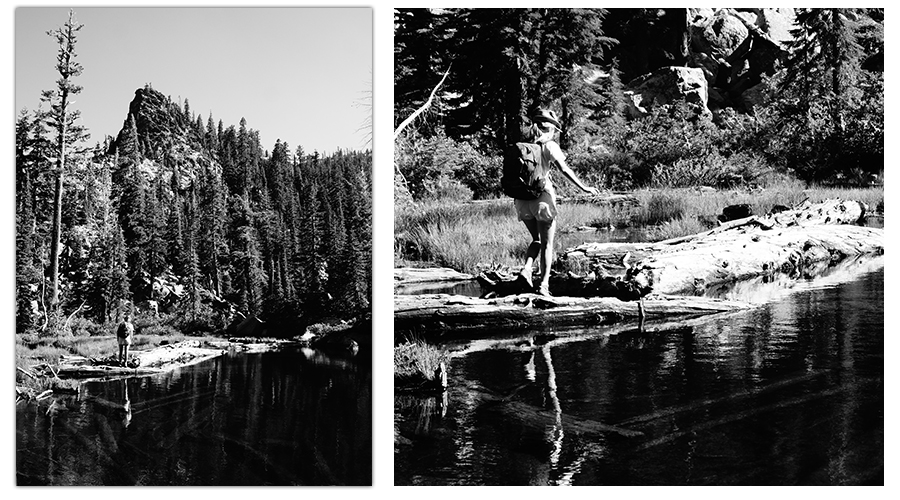 We saw newts in the water as we crossed!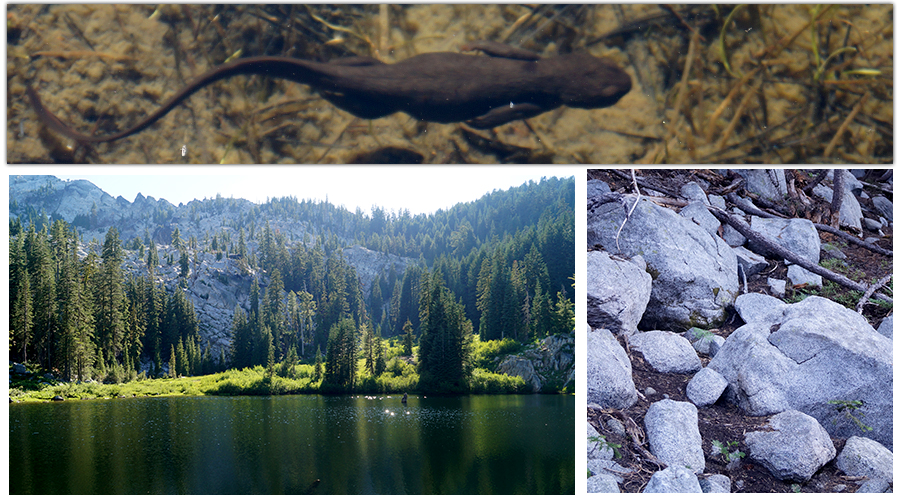 Past the logs we found an area that looked like it would be a great camp spot and decided to take a break and swim. The water got deep quickly so we could use the rocks on the shore to jump off of into the water. Had the whole lake to ourselves! Albert Lake was smaller than Paynes but also in a granite cirque.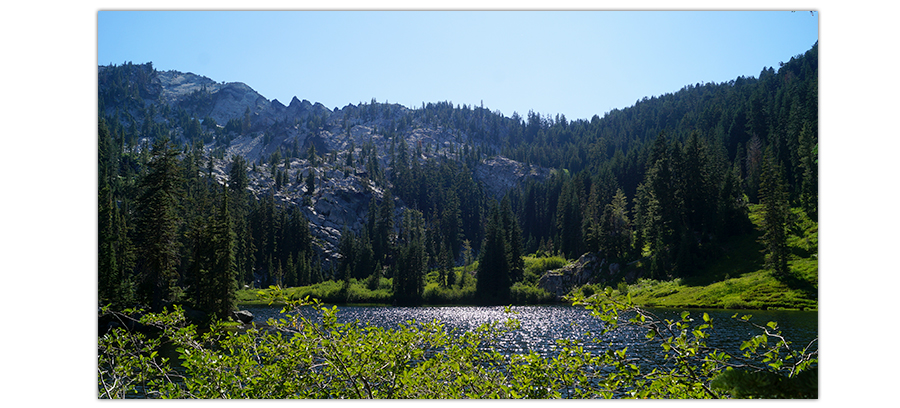 Next, finding the trail to Upper Albert Lake.. There was not a trail but a lot of rocks on a steep graded hillside. We figured if we follow the drainage up, eventually it will lead us to its source, Upper Albert.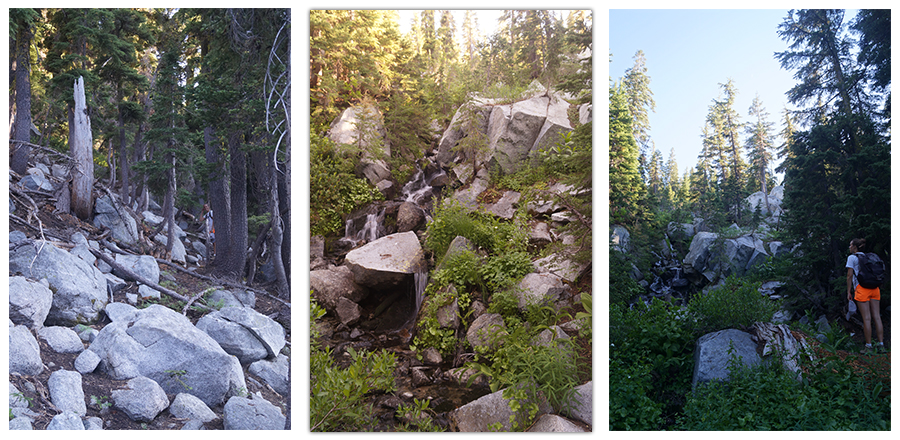 This trail was fun and challenging, especially after the previous two lakes. We made it up and got our first glimpse of the Lake. It was a smaller, more pristine lake that was also in a cirque and it looked like we had it all to ourselves as well!

The view looking back was amazing, with both lakes below us and the layers of mountains past the valley. And of course, Mount Shasta at its height of 14,179 always lurking in view.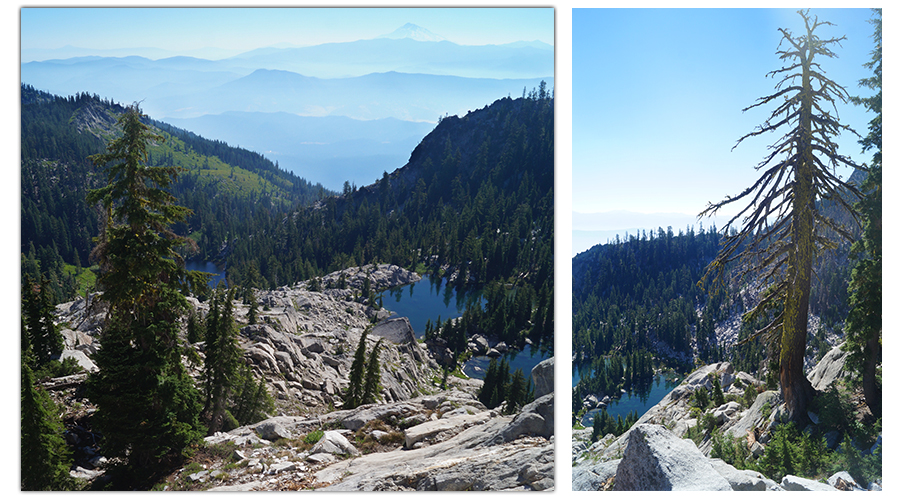 We spotted a little island like area in Upper Albert Lake and thought it looked like a cute place to call home for the night. We scrambled over to it, set up and relaxed lakeside. The stars were magnificent. The next morning we couldn't resist but to scramble our way to the top of the sawtooth ridge we had been staring at across the lake.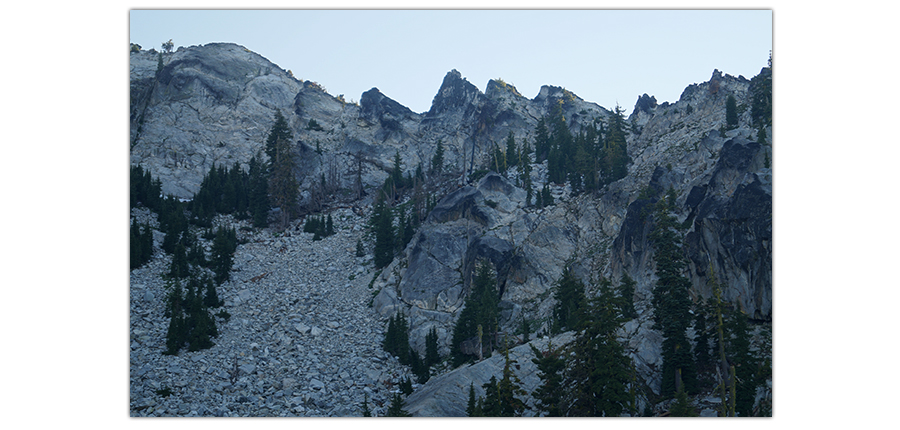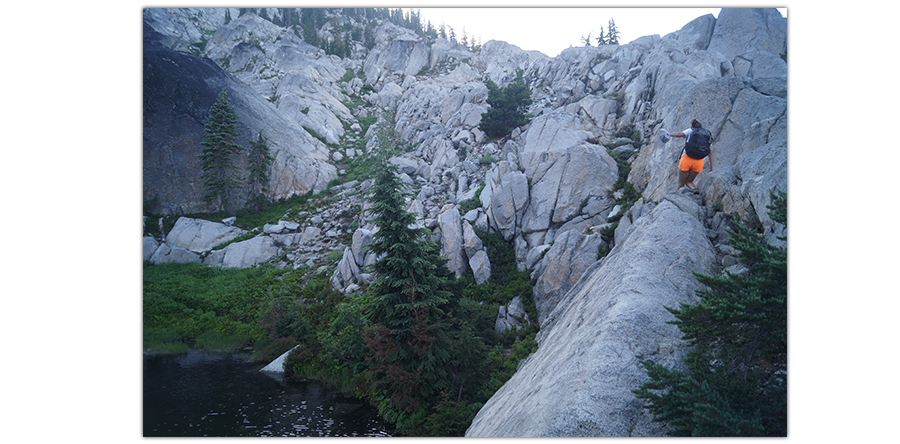 We found some piles of snow on our way up. There was no trail so we took advantage of the opportunity to scramble up the boulders.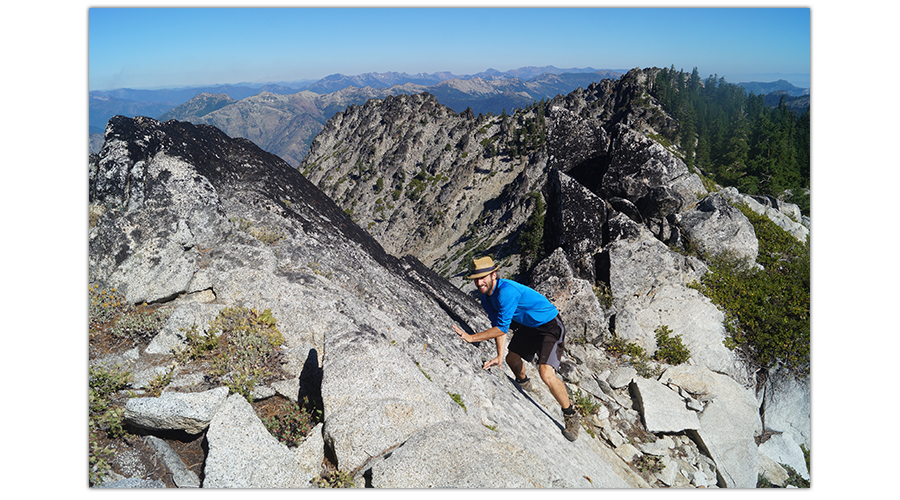 Before we knew it, we were at the very top, overlooking yet another lake on the other side and miles and miles of vast mountain wilderness to explore!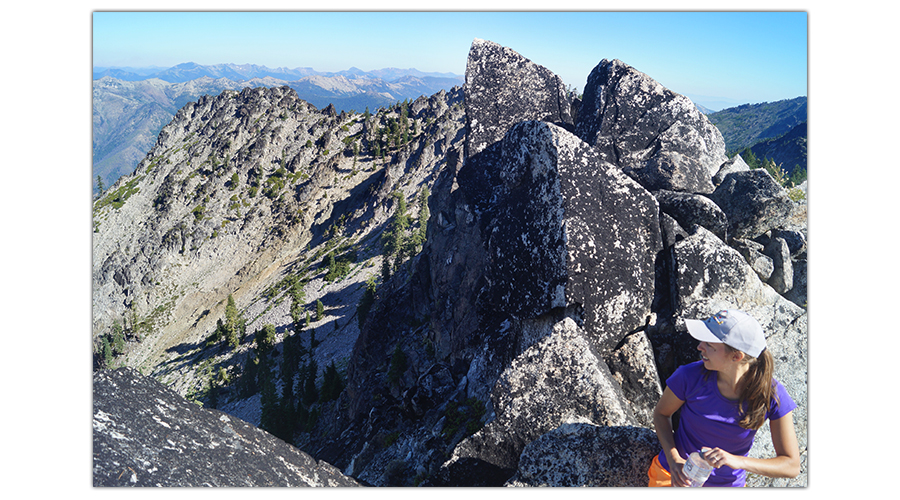 We soaked in the views, got some pictures and scrambled back down.

Finding our way down was a little challenging with the lack of a trail but following the drainage proved successful again. As we got closer to Paynes Lake, we started seeing quite a few other hikers headed up. Guess we chose a good day to find solitude! All in all, a challenging one nighter consisting of three beautiful granitic high elevation lakes, newts, great stars, and a climb to the top of a granite ridge. We hope you enjoyed reading about this adventure! Feel free to check out our shop at Lost Coast Longboarding to help support our adventures and keep supplying you with cool pictures and fun stuff to read. Thanks for your support!