Traveling East from Texas we rolled through the Cajun Country. As the sun set behind us we made sure to stop somewhere to eat and get some Cajun chicken while in the area.

As an artist I appreciate quality art, and we got to see a lot of one of my favorite styles of art, Graffiti! We got to see a ton of train cars with graffiti along the way. Graffiti is a great place to find artistic inspiration.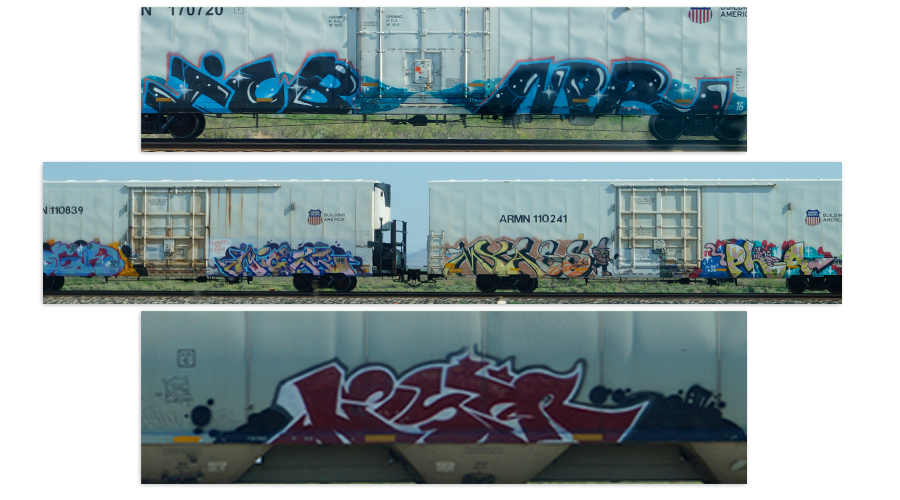 We didn't get much skate time until we arrived in Florida. We were ready to enjoy the sun and humidity of Florida, it was a change from the Northwest winter on the Lost Coast. I learned that in the flat lands of Florida, there are many smooth paved bike paths. These are great for cruising on a longboard. They are good for an enjoyable roll but also great for commuting through town for stuff. Many of the trails are also very long, we rode on some for 6,7, or even 14 miles at a time and we could have gone even further!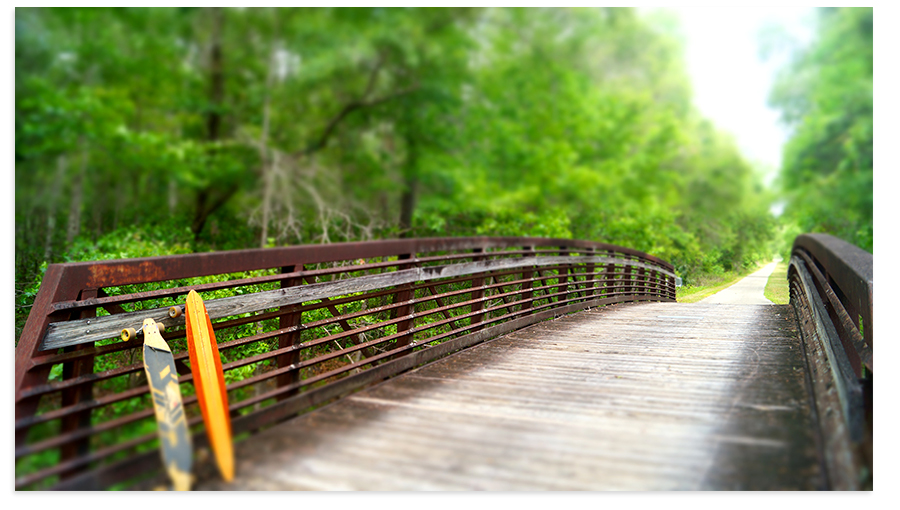 One of the paths we cruised on was the Lehigh Rails to Trails where we got to see some big alligators and cruise along side a river through what looked like the jungle. To read more about this path click HERE!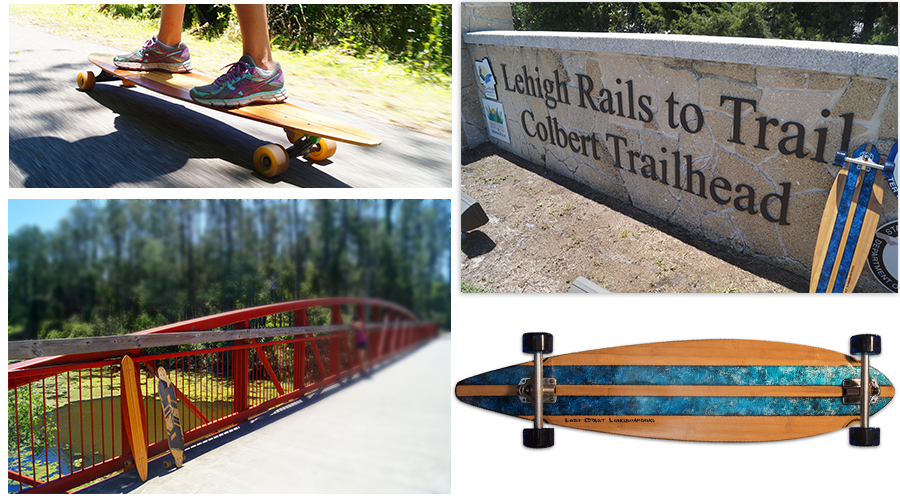 You can pick up one of our Blue Streak Classic Pintail boards here. Painted by hand with marbled blue stripes, This complete package comes gripped with chrome 9″ reverse kingpin trucks on 1/4" risers and 78a Zaza wheels.
We also got to go for a long roll through the Prairie Creek Preserve. The preserved area was beautiful and we got to see a bunch of animals. Many hiking trails branch from the main paved path. The main path was a long smooth trail with mile markers along the way. Read the entire article HERE!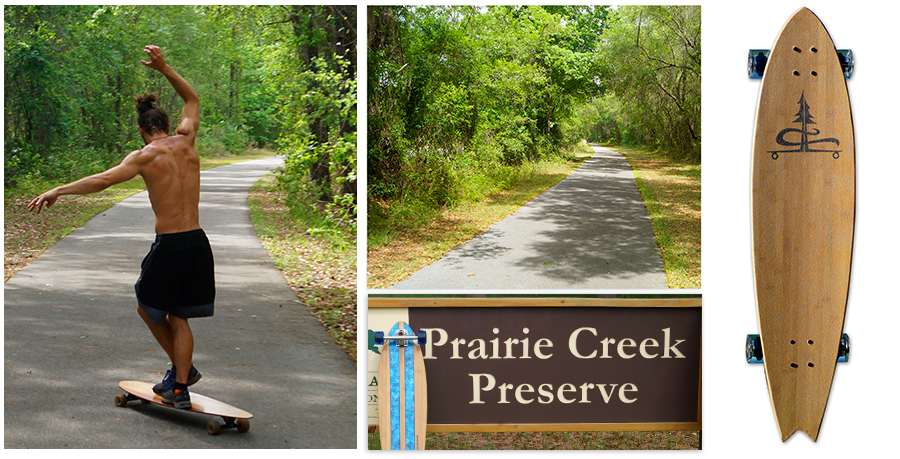 Not only does Florida have great paved paths, but they also have a pretty good skate park scene. We got to stop at a bunch of skate parks. We were able to skate at Kona, the oldest surviving skate park on the planet! This place was awesome. It's kinda like a skaters dream; halfpipes, snake runs, street, freestyle, concession stand, live music, events, and a good amount of skate history.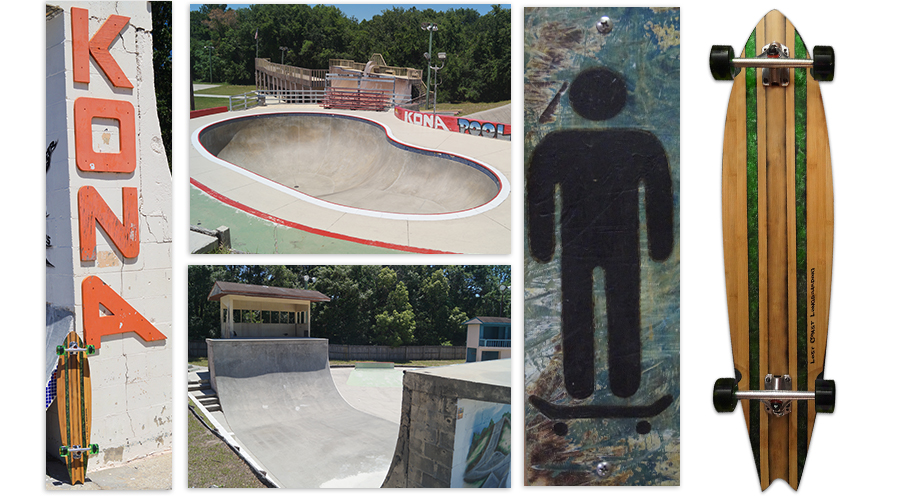 You can read the whole article on Kona HERE. Our Classic Fishtail board comes in Green or Blue marble and shadow stripes. This complete package comes gripped with chrome 9″ reverse kingpin trucks on 1/4" risers and 78a Zaza wheels, and you can pick yours up here!
We got to have some fun at Possum Creek skate park in Gainesville. And we got in a good skate sesh at treaty park in St Augustine. (we'll link that article once it's written)

We're gonna cruise around in Florida for a bit and take some time to make some more longboards and t-shirts. We're also going to stop in some skate shops and try to get our boards and apparel in some shops! Thank you for your support, and to help support The Lost Longboarder please pick up some of our new products at Lost Coast Longboarding. Some new things in the line up include new boards..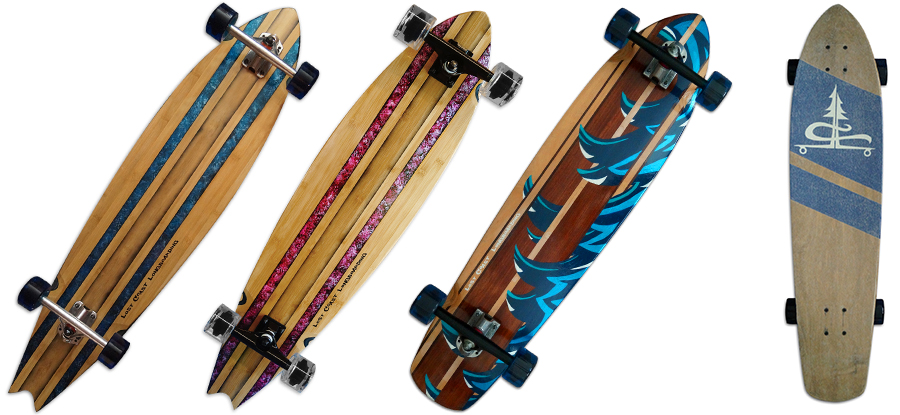 And new shirt designs! We have a new Road Rash Shirt as well as our new Dare Devil Dancer shirt, and our classic Lost Coast Longboarding Logo shirt!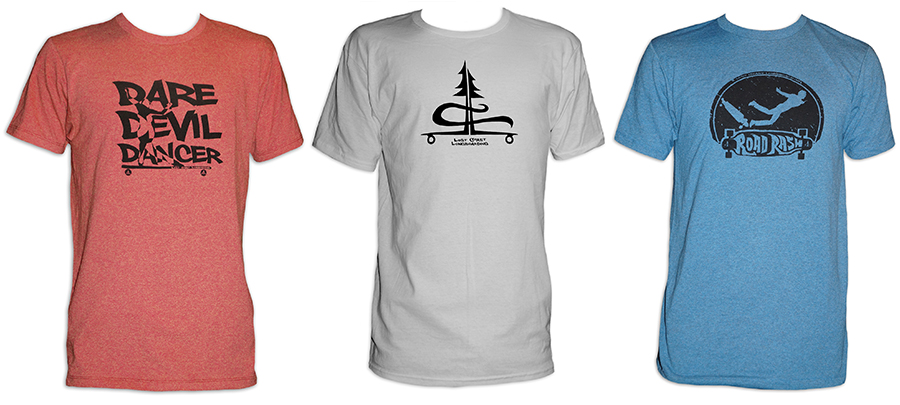 We appreciate your support! If you have any questions or comments, please leave them below in the comment section!